for 2 voices, flute, guitar, harp
on texts by Amelia Rosselli
2008 | duration: 4′
Notes
Shortlisted for Gaudeamus Prize 2009
Recorded on CD "Compositori a Confronto, Reggio Emilia 2008", Aliamusica Records.
Performances
18.10.2008 Compositori a Confronto, Reggio Emilia
08.09.2009 by Nieuw Ensemble & VocaalLab, Gaudeamus Music Week, Amsterdam
17.04.2010 by Freon Ensemble, Atlante Sonoro XXI, Roma
22.05.2011 Festival miXXer, Ferrara
07.06.2012 Composers' Festival, Conservatorium van Amsterdam
26.07.2012 Darmstadt Ferienkurse
Audio
Recorded live in Amsterdam 8.10.2009 Gaudeamus Music Week | Nieuw Ensemble & Vocaal Lab
Bauwien van der Meer, Francine Vis voices, Margreet Niks flute, Helenus de Rijke guitar, Ernestine Stoop harp
Audio clip: Adobe Flash Player (version 9 or above) is required to play this audio clip. Download the latest version here. You also need to have JavaScript enabled in your browser.
Program note (ENG/ITA)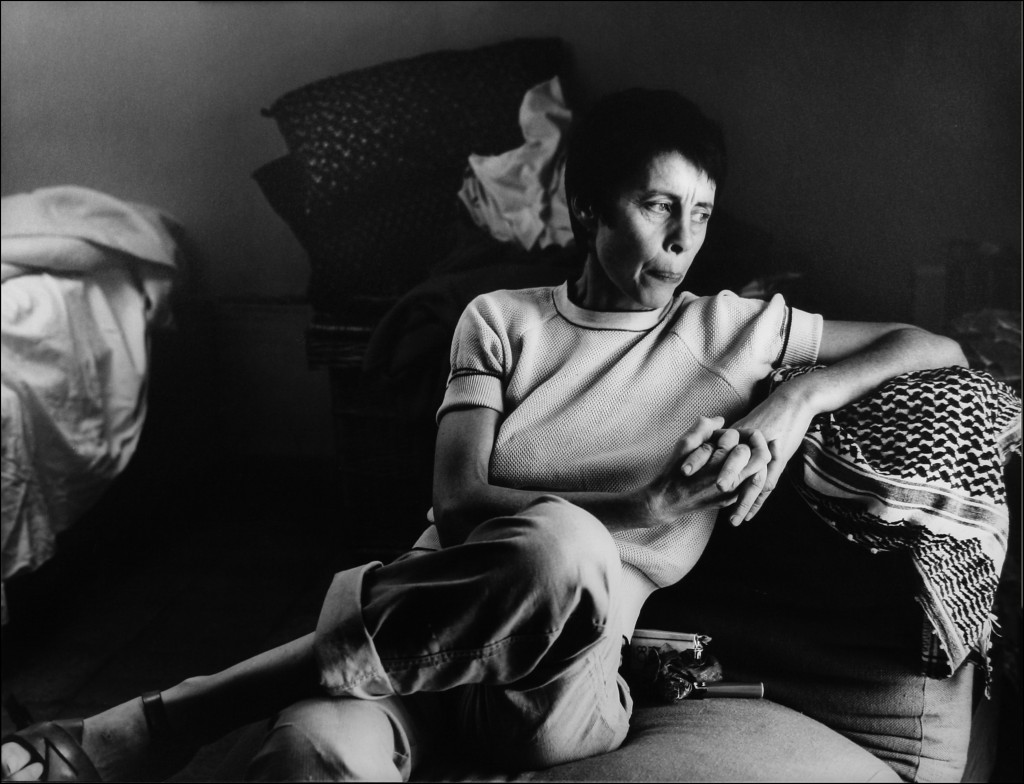 AMELIA ROSSELLI  photo©DinoIgnani
Writing "Il disincanto, l'incanto e la frenesia" has been a way of listening to and feeling intimate with the poetry of Amelia Rosselli. Her words slide on a seemingly lucid Cartesian logic, yet suddenly carry forward on unexpected territories through syntactic or phonetic concatenations. Here, a plurality of meanings and voices that tell us about bodies, love, illness and war accumulate, collide and fuse.
My work, based on a selection of fragments from "La libellula" ("The Dragonfly", 1958), has been an excavation into the words' sound body, providing resonances with timbre and substance. I tried to create a sounding landscape though the use of small gestures, and a listening time permeated by tension and expectation.
The presence of two voices reflects a need to translate verse redundancy into a lighter, more concise polyphonic dimension. So voices exist as a double-being and the instruments are thought of as a single resonant body from which these voices appear and in which they submerge.
_____
Scrivere Il disincanto, l'incanto e la frenesia è stato un modo per entrare in un contatto più intimo con la poesia di Amelia Rosselli. Le sue parole scivolano su una logica apparentemente lim­pida, cartesiana, ma procedono per adiacenze foniche o sintattiche verso territori inaspettati. Qui si ac­cumulano e vanno in cortocircuito una moltitudine di sensi e di voci che ci parlano di corpi, di amore, di malattia e di guerra.
Il mio lavoro, a partire da una selezione di frammenti da La Libellula (1958), è stato quello di scavare nel corpo sonoro delle parole, cercando di dare alle risonanze uno spessore timbrico, di disegnare con piccoli gesti un paesaggio sonoro e un tempo dell'ascolto percorsi e plasmati da ten­sioni e attese.
La presenza di due voci risponde all'esigenza di portare una ridondanza del verso in una di­mensione polifonica più contratta ed esile. Così le voci sono un essere doppio e gli strumenti sono pensati come un unico corpo risonante da cui queste voci nascono e in cui si reimmergono.
[February 2009]
_____
Texts (ITA)
I testi sono frammenti tratti da: Amelia Rosselli, La libellula, in Le poesie, Garzanti, 1997
(Vi sono tra parentesi quadre parti di testo non utilizzate)
Io non so se tu cadi o tu tremi, tu non sai se io piango
o dispero, tu non sai se io rido
Trovate Ortensia
che muore fra i lillà fragile e dimenticata.
[Sorridente e fragile fra i lillà della vallata
impietosita; impietrita. Trovate Ortensia che
muore sorridendo di tra i lillà della vallata,
trovatela che muore e sorride ed è stranamente
felice fra i lillà della villa, della vallata
che l'ignora.]  Popolata è la sua solitudine di
spettri e di fiabe, popolata è la sua gioia di
strana erba e stano fiore, [ – che non perde l'odore.]
Per i suoi occhi bianchissimi, – per le sue
membra limpidissime, io vado cercando la gloria!
Per le sue membra dolcissime, per i suoi occhi
rapidissimi, io vado cercando gente che nasconda
armi nella fratta. Per i suoi occhi bianchissimi,
per la sua pelle lievissima per i suoi occhi
Furbissimi, io vado cercando gente che nasconde.
Per i suoi occhi leggerissimi e per la sua bocca
fortissima, io cerco gente fortissima, che nutra
me e lui insieme nella notte fra e bianche ali
degli angioli fortissimi, dolcissimi, leggerissimi.
[Dissipa tu se tu
vuoi questa mia debole vita che si incanta ad
ogni passaggio di debole bellezza;] dissipa tu
questo mio incantarsi, [dissipa tu
se tu vuoi la mia eterna ricerca del bello e
del buono e dei parassiti.]
disfa la luce, disfa la notte e l'incontro.